Please ensure the tag number printed on the card matches the animals Official tag number.
Hair samples should be pulled from the end of the tail, it is the root follicles that are analysed.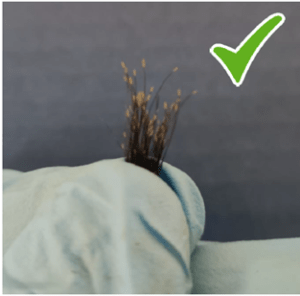 40-60 root follicles are required. The hair should be clean and dry.
Peel back the plastic cover on the inside of the collection card. Place the hair with the root follicles pointing inwards.
Seal the plastic cover smoothly over the hair follicles.
Close the collection card and insert the tab in the slot at the end of the card.
Place the hair sample in the plastic bag and complete the data collection card.